Have you noticed how difficult and painful it is to work with your mouse?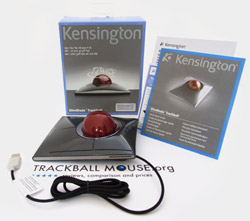 A trackball gives you full control and comfort!
Almost everyone who uses a trackball can't go back to using a normal mouse after only a few days of working with it. Don't wait before it's too late. Try one and we promise you won't be disappointed.
A trackball mouse works on any surface, is better for your arms, wrist and hand, saves desk space and offers more control and precision.
The Logitech Marble Mouse or Kensington Orbit with Scroll Ring will fit into your price range and are also some of the most popular, reliable and comfortable trackballs. If you are a professional or heavy user, we strongly recommend considering the Kensington Expert.
Trackball comparison
Compare the available trackballs below or read the trackball reviews to see which one is the best trackball for you. All trackballs listed in this trackball comparison chart are compatible with recent Windows and Mac computers, have a USB connection, are plug & play and have programmable buttons, so we didn't add those features to the comparison table. Click on the name or image to read the trackball review.
View all trackball reviews
See the Top 10 best trackballs of 2012