Logitech Cordless Optical TrackMan
Review
productnumber 904369-0403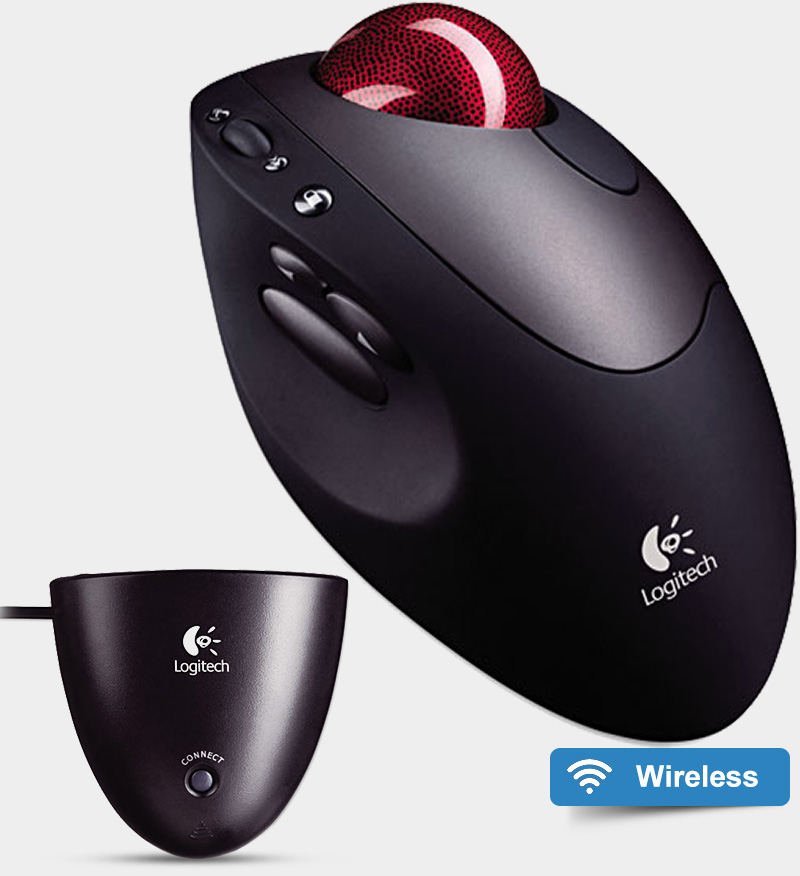 "Smooth motion, wireless, but button placement not as ergonomic as alternatives"



Read all reviews on Amazon.com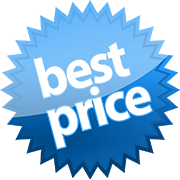 LOWEST PRICE:
check ebay »
SUMMARY: The Logitech Cordless Optical Trackman is a strange beast. The first few minutes you might have to take a close look at it to find out what's actually the front or what's the back. It looks like a one-eyed beetle from outer space that could scurry away from your desk. Once you realise that it is just patiently waiting for your orders, you put your palm on the extra smooth surface (it's really nice and soft) and start exploring this multifunctional trackball. This serious trackball means business.
OUR VERDICT:

Read full review below
The Logitech Cordless Optical Trackman looks very promising. It is loaded with buttons, seems to have a very ergonomic shape, and it is wireless.
But when I started using it, I quickly find out that it has some drawbacks. It takes some serious practice to get a hold of this one. This is a difficult trackball, and you need to adjust the way you use mice or trackballs to be able to use it properly. Once you have dedicated some intense training time with this device, you might have found a very good new friend.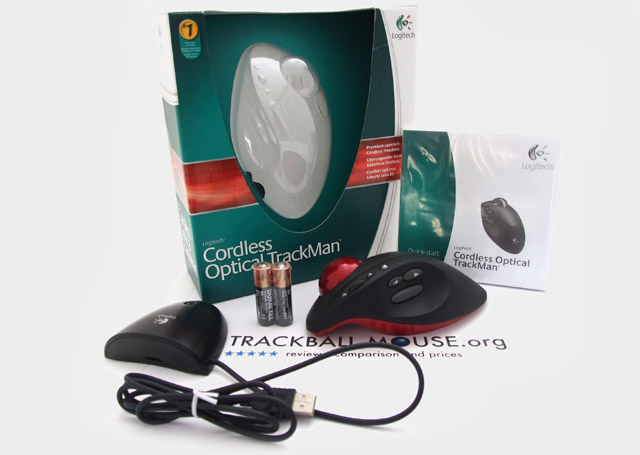 When I take the Logitech Cordless Optical Trackman out of the box, I admire the shape and soft material of the handrest. It has a very luxurious feel to it, and the trackball is solid and well made. It has a good grip on the desk surface so you won't move it around by accident or too much pressure.
There are two models available, one as pictured above with the dark grey plastic, but another version is available with silver grey plastic. The darker version looks much nicer in my opinion.
Plug… and not immediately play
Of all trackballs I have tested so far, this one takes the longest to install, since it's not working instantly. I first have to insert the two batteries (which are included in the box) and pair the device with the wireless receiver, simultaneously pressing a button on each device. The button on the Trackball is one of those tiny buttons you have to press with a pen or paperclip. Handy? Not really. But ok, after a minute or two of fiddling it works and my pointer is moving on the Retina screen of my Macbook Pro. (The Logitech M570 is much quicker and is recognised by receiver and computer instantly when you turn the device on).

Wireless
This Logitech is, as the name already reveals, cordless aka wireless. But if you were hoping for a bluetooth trackball, you will be disappointed. And if you were hoping for a tiny USB receiver (just like the Logitech M570 Wireless), you will also be disappointed. If you happen to know older Logitech models with a wireless receiver, you might already know that it is a large device (see images above). For me, as a laptop user, this is quite useless, since the wireless receiver is just an extra large thing on the desk that I don't need. A normal cable from the trackball device straight into my laptop would actually save a lot of space!
So what is the use of having it wireless if you need more space? The trackball doesn't move so a chord would never be in your way. Only if you have a desktop computer, and when you can hide the hideous receiver out of sight, it would be useful.
When I tested it, the range of the wireless device is only approximately two meters (7ft), so if you want to use it to control your media center, while hanging on your couch, you have to make sure you are close to your computer.
One more downside of the wireless connection: on rare occasions, it loses the connection for example after you restart your computer. A short connecting session (holding the two buttons at the same time) or unplugging and plugging in the USB cable solves this.
I would say that this device would have been better off with a (long) USB cable.
Although the Cordless Trackman trackball is quite long, it feels a bit too small. For people with large hands like me, the whole thing could have been a bit longer with all the buttons moving almost an inch forward. With the current design, I have to bend my thumb to press the left-click with the tip of my thumb, my index finger is too much forward to handle the scrollwheel and other buttons properly. Only my pinkie is placed correctly on the right-click button.
Buttons
Ok, so how many buttons does this machine have? Well, if you count the 'scrollwheel click' (pressing the scrollwheel produces a click), there are no less than 8 buttons. That is impressive! Each of these buttons can be programmed via the Logitech Control Center software. I strongly recommend downloading and installing the latest version from http://www.logitech.com/en-us/support).
The standard setting for the buttons is: the largest button on the left is the left-click and the two buttons above it are Back/Forward. Then, on top of the device we find two tiny round buttons that act as scroll (or as Logitech calls it: Cruise up and Cruise down). The scrollwheel-click selects an object, and the button with a lock on it acts as Drag-lock. Then finally, the large button on the right is the right-click. As mentioned before all these buttons can be set to perform all kinds of actions.
Ball
The ball doesn't move very smoothly at first. It takes a an hour or so before you can 'throw' your cursor around with it, and after some use it becomes even more comfortable and accurate. The size of the ball is decent, smaller than the Kensington Expert or SlimBlade but similar to the Logitech Marble and Adesso iMouse T1.
Conclusion
| | | |
| --- | --- | --- |
| | 3.5 / 5 | |
The Logitech Cordless Optical Trackman is one of the more complicated trackballs to give a simple conclusion. I think, after using it for a while, that it is a very good trackball, especially for demanding users that want a lot of buttons. Heavy users and professionals will be very happy with it when they take the time to get used to it. With 8 buttons (the most of any currently available trackball) and a decent scrollwheel you can make this a very useful tool for your work or even gaming, and one that is of course far superior to a regular mouse, saving you many arms and wrist movements and always being very accurate and fast.
The Logitech Cordless Trackman is well built, feels solid and comfortable and looks good.
If you are a laptop user, the downside of this trackball is (surprisingly) the fact that it is wireless. I really wonder why there still isn't a bluetooth trackball available, that would be a better solution than this huge USB receiver which takes up space, a USB port and has a very limited range. If you are working on a laptop, having a long chord with a wireless receiver and then the trackball device itself, completely defeats the purpose of a wireless device (saving space!). For Desktop users this would be less of an issue, and actually a benefit since they wouldn't need a cable from the trackball to the computer which probably is placed under the desk.
If you are a casual user mostly browsing the internet and writing emails, then a more simple trackball, like the Logitech Marble, or Kensington Orbit with Scroll Ring might be a better choice. But for experienced computer users, probably desktop computer owners working in for example programming, design or other intense computer work, I can fully recommend this as a very good trackball.
This trackball is currently not produced anymore so can fetch high prices on eBay and Amazon, see links below.


Pros
Logitech Cordless Optical TrackMan
Sculpted shape supports your hand
Beautiful design
Soft-touch surface, your hand will love the way this Logitech trackball feels
Medium size ball
Scrollwheel
Eight-buttons! You'll save time with one-touch access to common tasks and activities, programmable Forward/Backward buttons, and a drag-lock button for more control.
Easy to clean
Cons
Wireless receiver quite big
Not easy to get used to
Currently very hard to find for a decent price