Logitech TrackMan Marble Trackball
Review
productnumber 910-000806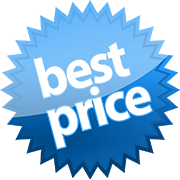 LOWEST PRICE:
$22.99 »
SUMMARY: The Logitech Marble mouse is the trackball that started it all for me. And probably not only for me, but for many people this the trackball that is the easiest way to enter the wonderful world of the trackball. It's very cheap, but also very good! The main downside is the lack of a scroll wheel. If you don't want to spend a lot of money on a trackball, and don't want to read all the trackball reviews on this website, just buy this one and send me a postcard of your honeymoon days with this sweet Marble trackball, you won't regret it.
OUR VERDICT:

Read full review below
The Logitech TrackMan Marble is really the trackball mouse that makes people fall in love with trackballs. The shape of this bestselling Logitech trackball is very simple but comfortable and well designed. The ball is held in place (but can be popped out for cleaning) and sticks out so that you can really move it easily from many sides with your fingers. Because of its ambidextrous design it is suited for left-handed as well as right-handed people.
The Marble is made of nice materials, it feels very solid and not cheap at all, even though this is one of the most affordable trackball mice around.
Buttons
The Logitech Marble features two large buttons which you can program or use as left-click and right-click. When the Marble model was upgraded a few years, Logitech added two new small buttons above the large buttons. Each button can be customized to perform the task you like, using the Logitech Control Center software. The small buttons for example could be set as Back/Forward, or to open Applications, Documents or Websites, and many other options.
The two small buttons take a little getting used to as they are placed a bit too much to the back for my liking but after a short while my fingers were used to it.
Scrolling
Since this Trackball doesn't have a scrollwheel or scrollring, I use the two small buttons to act as up and down scrollers. This works pretty well, although I prefer the directness and speed of a large scrollring that can be found on the Kensington Expert, Orbit with Scrollring or SlimBlade). When I installed the Marble mouse, the two buttons were actually already set to this scrolling option.
Another, better way of scrolling, is to change one of the small buttons to set a scroll function (using the Logitech Software or other button customisation software): then the ball itself become a scrolling wheel when you press that button. Not ideal, but if you get used to it, this can work quite well.
Other people have suggested to get a keyboard with a scrollwheel built in, so you can scroll with the keyboard. Again, not ideal, but it can work quite well.
Ball
The ball is medium in size: not as small as the Logitech M570 or Kensington Orbit Optical, but also not as large as the Kensington Expert or SlimBlade. The dark red ball is covered with tiny black dots which makes it 'readable' for the optical system that tracks the movement of the ball. The ball is kept in place nicely by the trackball case, which is very handy if you are moving or transporting the trackball. With a light pull you can take the ball out to clean the area below the ball (you might need to clean this trackball a few times a year, which takes just a few seconds, wiping accumulated dust and hairs away).
Conclusion
| | | |
| --- | --- | --- |
| | 3.5 / 5 | |
We can be short: this is a great trackball. The many extremely positive reviews online confirm this as well. My only personal concern is the lack of a scrollwheel or scrollring, which is something I really miss, but if you have a scrollwheel on your keyboard this might not be a problem for you, plus you can program the two small buttons to act as scrollers which actually works pretty well (although I prefer a wheel or ring). It works very accurately, feels comfortable even after working with it for many hours. Gamers that use a trackball often mention this Logitech Marble as their weapon of choice, which is another testament to its quality.
If you are a professional designer or heavy user, the Logitech Marble can work for you. Once you are used to this one, you might want to upgrade to a Kensington Expert or Slimblade at some point as I did, but many people I know have never changed and keep using the Marble for intense daily computer work. If you are a heavy user, you might have to buy a new one each 4 or 5 years in our experience, when the buttons are really worn out and the ball loses it's smoothness due to accumulated dust, but for the price (less than $30), I really think the Logitech Marble is a very, very good value for money.


Pros
Logitech Trackman Marble
Simple but ergonomic and comfortable design
Medium size ball offers great accuracy
Programmable, large buttons
Used by many gamers
Back/Forward buttons
Ambidextrous – good for both left handed and right handed users
Very easy to clean
Great value for money
Cons
No scrollwheel or scrollring