Penguin Wireless Ambidextrous Vertical Mouse
Review
productnumber 9820103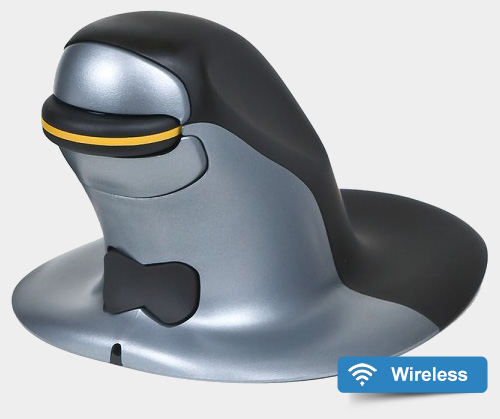 Reviewers on Amazon are happy about the design and comfort of the Penguin Vertical Mouse, but some say the build quality could have been better.



Read all reviews on Amazon.com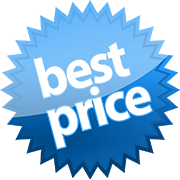 LOWEST PRICE:
$83.00 (wireless version) »
SUMMARY: The Posturite Penguin Vertical Mouse is a popular ergonomic alternative for a regular mouse, so I wanted to see if this is also an alternative for a trackball. The Penguin is available in several variations, I'm using the Large Penguin Wireless Ambidextrous Vertical Mouse. Read the full review below!
Are you using a Penguin Vertical Mouse? Share your experiences in a comment below!
OUR VERDICT:

Read full review below
The Posturite Penguin Vertical Mouse is a bit out of place here on Trackballmouse.org, or anywhere else for that matter. This device doesn't look like any other mouse, not even like the other vertical mice available today. The Penguin created a category of its own, and fills it up with six variations: a Wireless and a Wired version, both available in 3 different sizes, Small, Medium and Large.
The Penguin Vertical Mouse got my attention because of some good reviews on amazon.com and amazon.co.uk.
What we as trackball users all know and love about trackball mice is that they don't have to move around on our desk. This not only saves space, but also makes you move your arms and wrist much less than a regular mouse. I want to find out how this vertical mouse will feel: the thought of moving this whole device around the desk to move my cursor on the screen seems like a lot of work to me as a lazy trackball user. But let's see.
About Posturite
The Penguin is produced by Posturite, a British ergonomic company with a well stocked online shop for all ergonomic related equipment, including chairs, workstations, ergonomic keyboards and pointing devices. But providing ergonomic products is just the start of what they do. Posturite has branched out into health and safety, staff training, office refurbishment, assistive tech and more, so it's safe to say they know what they're doing.
The Penguin Vertical Mouse is one of Posturite's own inventions, a vertical mouse with a ergonomic design that for some reason is inspired by… a penguin, the antarctic bird. I must say it does look original and the ergonomic design has 'penguin' elements nicely mixed with practical features.
Which one to get
So there are a few things you need to establish before purchasing a Posturite Penguin Vertical Mouse.
Size
First you need to decide on which of the three available sizes of the Penguin Vertical Mouse is best suited for your hand.

You have to measure your hand and compare it to the size chart (see below), to know which size is best for you: Small, Medium or Large. If your hand size is in between sizes, I would definitely go one size up and get the bigger version. I decided I needed the Large.
Wireless
Then you need decide for yourself if you want a wired or a wireless version. Both have advantages and disadvantages, quite obviously, but I'll state them here again. The wireless version gives you more freedom to move and takes up less space on your desk. It does, however, take up a USB port with the receiver, so you won't gain a USB port compared to the wired version. Downside might be the loss of connection, which with a wired version never happens, but with the wireless connection could happen occasionally (although I haven't experienced any issues with it so far). The wireless version needs to be charged regularly. I don't know yet how often, but it's a small downside, compared tho the wired version that never needs to be charged. The charging of the built in battery is easy though, via a special USB cable that comes with the device.
In this review I have tested the Large and Wireless version of Penguin Vertical Mouse.
Packaging

The Penguin Wireless Vertical Mouse in the box
photo © TrackballMouse.org
The Penguin mouse comes in a box with a nice design and feel to it. The Penguin vertical mouse is well protected with a carton cover, a plastic bag and transparent plastic protector on the 'head' of the Penguin.
I take the Penguin out of the box, and feel the soft and smooth materials. Not only very comfortable, but according to a label on the box also very hygienic. The product has an anti-bacterial coating called Silver-Seal, antimicrobial, fungistatic agent which makes the product greener and fresher by inhibiting the growth of microbes, odour-causing bacteria, mould, mildew and fungi on the surface. Why not indeed.
As mentioned before I selected the Large model, and I must say that it doesn't even feel that large to me. It's just right, not too big at all.
There's not much else in the box than the printed user guide and a charging cable. The charging cable has a USB plug on one side, and a tine round pug on the other side, which fits in the bottom front of the device. I plug it in to charge it.
2.4Ghz Wireless USB micro receiver
I have selected the wireless version, so I need to take the small 2.4Ghz USB receiver which is stored safely at the bottom of the device, and put it in my USB hub.

The USB receiver, DPI button and ON/OFF switch and Laser eye at the bottom of the Penguin Vertical Mouse
photo © TrackballMouse.org
Variable DPI
At the bottom of the Penguin (you need to turn it upside down to see it), is an ON/OFF switch (wireless model only) and a DPI button, with which you can select the sensitivity of the mouse. The DPI can be switched between 400, 600, 800 and 1200.
Buttons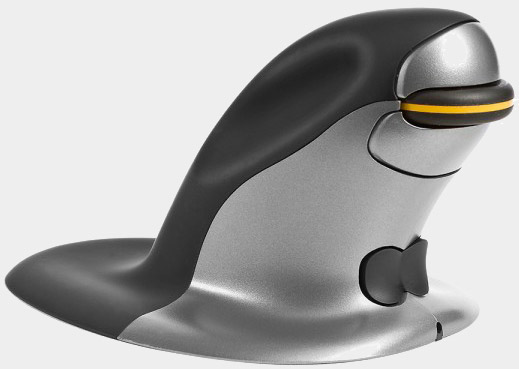 The Penguin has a few interesting looking buttons to play with and a scroll wheel at the tip of you index finger. The scroll wheel is large, and is mounted horizontally, quite unique. There are two buttons, one above the scroll wheel is the 'left click' and the one below is the 'right click'.
Ambidextrous, or work with Left and Right hand
All the way down towards the base of the device is another button, more like a switch, with which you can select if you're a right-handed user or left-handed user. Making this an ambidextrous vertical mouse, very thoughtful of Posturite (many vertical mice are made for right-handed users only).
This feature can also be helpful for people that have Carpal Tunnel Syndrome and want to regularly switch working with left or the right hand. With the large button (the bow-tie of the Penguin), switching is instant and very easy. Especially if you have the wireless version and don't have to deal with the cable on your desk.
P indicator light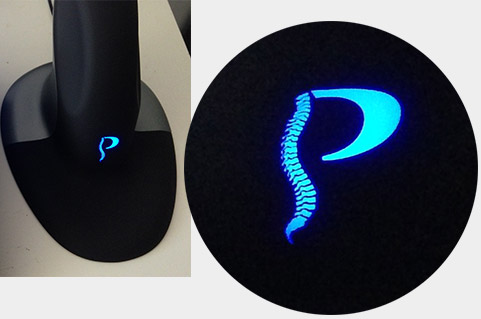 On the back of the device, aimed towards you, there is a 'P' from the Penguin and Posturite logo, which lights up blue if you move the device and turns off after 20 seconds of inactivity. A nice little touch, but also a useful indicator. The 'P' logo will flash to show that different DPI is being set, or it it will show the state of the battery when charging (wireless model only)
Put the Penguin vertical mouse to work
When I start using the Penguin device, my Apple computer thinks that this is a Keyboard, so I have to cancel the Keyboard Identification process, but the Penguin already works as a mouse, and no installation of any drivers is necessary. 
I grab the Penguin and it reminds me of the gaming joysticks on my old Commodore Amiga computer I used to play with for so many hours in the early 1990s. That's pretty cool! This feels like a joystick, but you can / have to move it around.
How does it work?
So how does the Penguin even work, I hear you ask. Well, you basically hold the device like a joystick and then move the whole thing around on your desk. This might seem strange, with that large flat base, a surface as big as two or three regular mice combined. But the moving around goes surprisingly well. Where trackballs have rubber grips to make sure it doesn't move, the Penguin has a few smooth rubber 'feet' that actually make it slide more easily, and so that you're not scratching the actual plastic on your desk.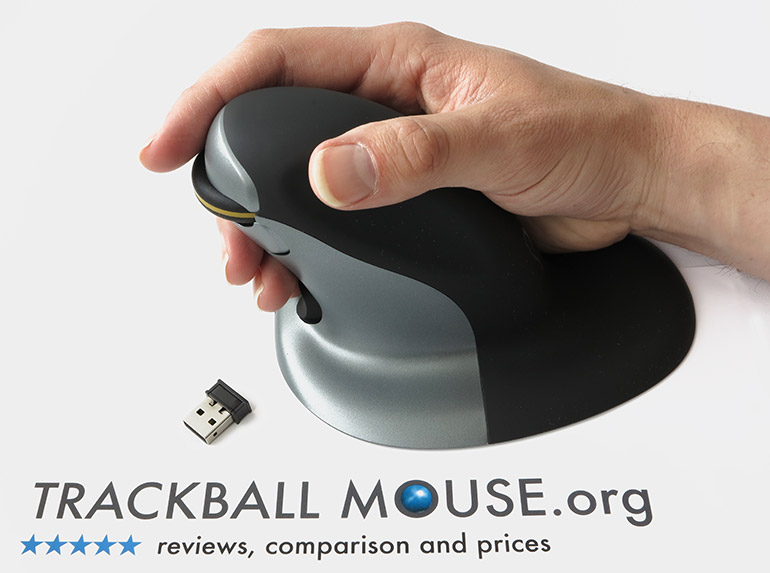 This is how you hold the Penguin Vertical Mouse
photo © TrackballMouse.org
The base is large because the side of your hand is resting on it, so that your hand won't slide on the desk. This grip of the Penguin Vertical Mouse feels quite comfortable.
Ergonomic shape
The main ergonomic benefit claimed by supporters of the vertical mouse is that you're arm is not twisted, but is in a more natural position, as the graph below shows.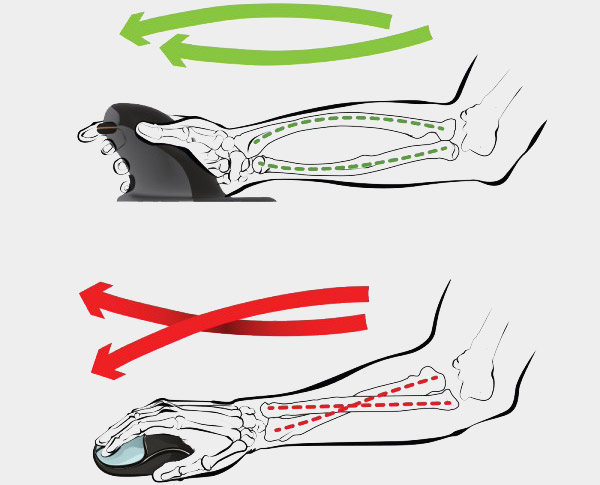 If this is true, it does seem to make sense. When using the Penguin and looking at my arm, it does indeed seem like a better position. It makes me realise that my wireless Apple keyboard is actually not ergonomically great at all: when switching from the Penguin to the keyboard, which happens hundreds of times during a work day of course, my arm does seem to have to turn a lot. Time to look into one of the more ergonomic keyboards, I will keep you posted on which one I will get.
Control
The control of the mouse is very good, the cursor on the screen moves very smooth and it's easy, even without much practice the mouse is going exactly where it needs to go.
The movement is tracked by a laser, just like with a regular mouse. I tested it on my white desk, and the laser worked great, it didn't have any problems tracking the movement. So you can finally get rid of that unhygienic mousemat.
Scroll wheel
The scrolling works by turning the wheel horizontally. That works well although you might want to increase its sensitivity in the mouse settings on your computer, as it is not scrolling very fast in standard setting (but that's a personal preference).
Sometimes I feel that I want to use the scroll wheel as a left-click button as well. This should be possible if you program the buttons, but it doesn't work out of the box. Clicking the scroll wheel activates auto scroll, something I never use but could be useful to scroll quickly through very long pages.
One issue I found with the Penguin scroll wheel is that when you hold the left-click button (for example when dragging a file), the scroll wheel often gets blocked and doesn't work anymore, which is bad if you want to drag the file, scroll up/down and then drop the file. I don't know if this is just my particular device that has this problem, so please post a message below or contact me if you have experienced something similar.
Better than a trackball?
The main downside to the Penguin, as with any other regular mouse or vertical mouse, is that you have to move your arm all the time to move the cursor. A trackball's main benefit is that your arms always stays still, in exactly the same position. With the Penguin, you can find a way where you pivot on your elbow, and the precision and sensitive of the Penguin is good, so that you don't have to move much. But you still need to move a lot. And on top of that you need quite a lot of space, at least the size of an A4 paper (Letter size in the US), and preferably a bit more if you don't want to have to pick up the mouse when you move all the way from one side to the other side of the screen. If you work on a double screen, I would not recommend the Penguin, but go for a trackball, as with a trackball mouse you can just 'throw' the cursor to the other side of even two large monitors when you roll the ball with just a quick flick of the finger.
Conclusion
| | | |
| --- | --- | --- |
| | 3.5 / 5 | |
The Penguin is a very good vertical mouse. I'm positively surprised by how comfortable it is and find myself using it quite regularly. Its ergonomic shape allows for a comfortable position of the arm and hand. The Penguin is also very easy to get used to, much quicker than a trackball or other vertical mice. The control of the Penguin is quite precise, although you can't act as fast as with a trackball.
The main downside is that, like any other regular or vertical mouse, you need to move the whole device with your arm (as opposed to a trackball where your arm can stay in the same position and only your fingers move). Another downside is that the scroll wheel often blocks when you have the left click button pressed (for example while dragging and dropping a file).
If you are currently working with regular mouse (seriously, you need to change that!) and want a much more comfortable and ergonomic alternative, and one that looks very cool on your desk, then I would definitely recommend the Penguin as a very good upgrade and suggest you consider ordering one (after measuring your hand size and deciding on the wireless feature). But as always, I would recommend also trying a trackball, which will give you more desk space and control while giving your arm and shoulder a proper rest.
The Penguin is available on amazon.com and amazon.co.uk.
Posturite Penguin Features
Penguin: The Clear Winner In Ergonomic Trials (read more below)
Performance laser tracking
Variable DPI (400-600-800-1200) for adjustable pointer speeds
Precision scroll wheel for fast, accurate document scrolling, including an auto-scroll feature

Available in wired or wireless versions

Available in three sizes: Small, Medium, Large
Antimicrobial coating keeps you safe from germs
Two ergonomic studies (one by VSI Risk Management & Ergonomics Inc. in California and one by the University of Brighton in the UK) have established Penguin as the leading ergonomic mouse on the market today. The studies, based on the results of 22 participants, found that:
90% of study participants said the Penguin was the most comfortable mouse to use
77% of users chose to keep the Penguin at the end of the study
82% said the Penguin had superior design and usability
100% said they could use the Penguin for an entire day without discomfort


Pros
Penguin Wireless Ambidextrous Vertical Mouse
Fast learning curve, feels good quickly
Ergonomic hand and arm position
Very comfortable
Large buttons
Large Scroll Wheel
Soft and Smooth materials
Anti-bacterial coating
Easy switch between left and right hand
Good laser tracking
Variable DBI
Cons
Scroll-wheel gets blocked when pressing click button
Needs a lot of free desk space to be used