Logitech M570 Wireless Trackball
Review
productnumber 910-001799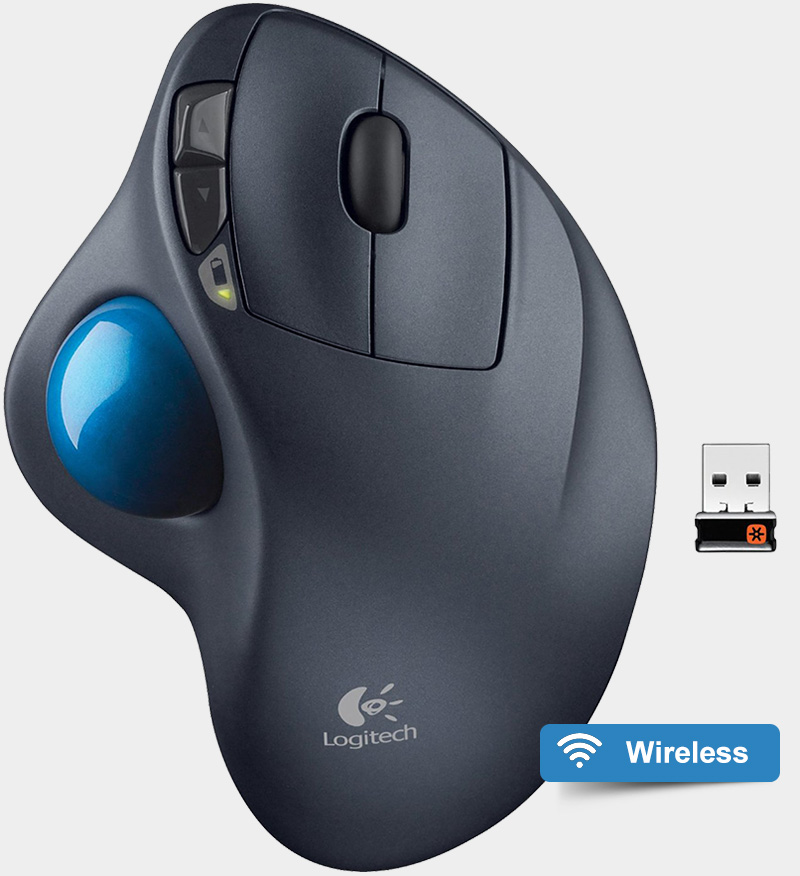 What owners say
The Logitech M570 gets 4.5 out of 5 stars on Amazon.com and is a #1 best seller there. Most users love it, but some have complained about the buttons wearing out soon.



Read all reviews on Amazon.com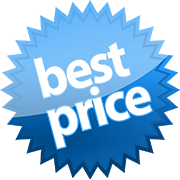 LOWEST PRICE:
$27.99 »
SUMMARY: The Logitech M570 Wireless trackball is sexy, smooth and smart. One of the smallest trackballs available, it features a wireless connection, thumb-operated scrollwheel and 5 buttons including Back/Forward. The design might be a bit small for large hands, but overall, this is a very good trackball and one of the most popular and highly rated trackballs available.
OUR VERDICT:

Read full review below
The Logitech Wireless Trackball M570 is the successor to the Logitech Trackman Wheel Optical that many people know and love. Despite the good reviews people left about the Trackman Wheel, and the fact that it sold well, Logitech decided to discontinue it and replace it with the wireless-only M570.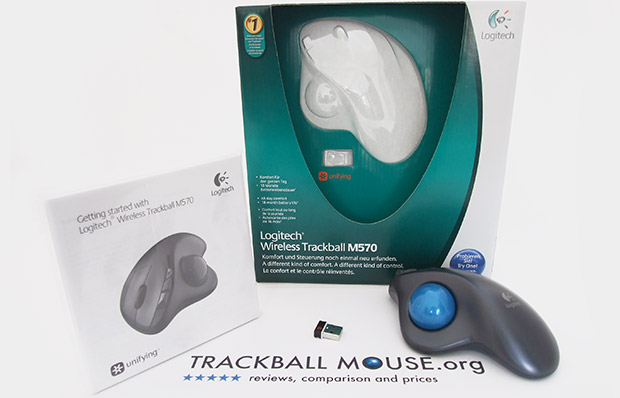 Product description
Overall the new version is very similar to the old, but there are a few important differences. The first main difference is in the appearances… the traditional grey mouse with red trackball is now a dark grey mouse (almost black) with a blue trackball. The M570 is also a bit smaller than the old model.
The fact that this new model is only available with a wireless receiver is also a big difference, but it's actually not a bad thing. It uses what Logitech calls their Unifying Receiver, which is very small (it barely sticks out from your port). This single receiver can power multiple wireless Logitech devices, for example a wireless keyboard.
The M570 also has two new buttons, next to the left-click button, for moving Back and going Forward when browsing websites or documents.
It uses only one AA battery for power and Logitech claims a full battery will last you 18 months of use. Now we're all used to companies exaggerating things about their products, especially something like battery life, but after reading a ton of real user reviews of this mouse we saw that pretty much everyone didn't have to replace the battery for at least a full year. Even people who use the mouse all day every day said they couldn't believe how long it lasted.
Opening the box
After I pull the little piece of plastic that prevents the battery from going empty while being in the box, and after I plug the tiny USB 2.4GHz Unifying Receiver in my Macbook Pro, the trackball immediately works. I do get a popup message about installing a keyboard, but I just close that window and start exploring the M570 (I later read in the manual that this always happens when plugging the Unifying receiver for the first time in a Mac). The scroll wheel, left-click and right-click immediately work and the speed of the cursor seems to be good (maybe it inherits the speed I had programmed for my Kensington Expert). The only buttons that don't do what I want them to do, are the Back and Forward buttons. If I click one of those buttons, I only get the option to scroll using the ball, and once I click it again, that option turns off. Not something I ever would use, especially since there is already a scroll button on the M570, so I have to use the Logitech Control Center software to program those buttons to do back/forward or something else.
The box doesn't contain an installation CD. On www.logitech.com/downloads you can download the Logitech Control Center (for Mac) or Logitech SetPoint (for Windows) software and within minutes the software has been downloaded and installed. Once it is installed, the Back and Forward buttons immediately work without me having to configure them. The Logitech Control Center / SetPoint software enables you to assign different options to each button. This Logitech M570 has 5 buttons in total: two large main buttons (usually best for click and right-click), the smaller Back and Forward buttons and the fifth button is clicking the scrollwheel.
Design
The shape of the Logitech M570 is really nice and your hand can comfortably hold the whole mouse… it is almost an erotic feeling grabbing this smooth shape and material. What I like about the design is that your hand is in a slight angle to the right, so the right side of your hand is resting on the desk and therefore lower than the left part, which is a more natural position for your hand than keeping it flat like with most mice or some other trackballs.
The Logitech M570 is very compact and for my large hands and long fingers it is almost a bit too small. Comparing to other trackball mice, it is one of the smallest trackball except for the Kensington Orbit Wireless Mobile. This is actually good for people with small hands, and also it saves even more desk space than the larger trackballs. Especially since the M570 is wireless (no USB cable needed), it takes the prize for the trackball that needs the least amount of space on your desk, while being a full and very capable trackball. (The Kensington Orbit Mobile might be slightly smaller, but that one lacks many buttons and a scrollwheel so is not as versatile or nice as this M570.)
Thumb-operated
At first it takes me a while to get used to using my thumb to operate the ball, especially since I'm used to a finger operated ball. You might feel a little discouraged after a few hours working with the trackball (any trackball, not just this one), because it does take little practice and getting used to. Remember: you have worked with a regular mouse or other trackball for years! Changing doesn't happen instantly. You have to give it a little time. But after a while I get the hang of it and the pointer can be moved quickly and accurately.
Ball
The blue colored ball is small compared to most trackballs, but it works well and smooth. You can push the ball out from below to clean the inside once in a while. Usually you won't have to clean it much, but dust and bits can add up making the movement less smooth. Cleaning just takes a minute: pop the ball out and wipe the inside with a piece of cloth or paper and you're good to go again. The ball is actually kept in place and won't fall out if you keep the mouse upside down (the ball of the Kensington Orbit Optical, SlimBlade and Expert for example will just fall out if you would hold the trackball upside down).
Buttons
The two main buttons are fairly large and easy to press and make a subtle click sound. The Back/Forward buttons also feel solid and work very fast, allowing you to go back and forward on internet pages instantly. The Back/Forward buttons are placed just a tiny bit too much to the left for ultimate comfort, but still quite easy to use.
Scrollwheel
The scrollwheel is made of a soft rubber and gives a nice feedback when your scrolling it. You would use your middle finger to move it. The wheel can also be pressed down, making it the 5th button of this device. The scrollwheel is not as multifunctional and high quality as the scrollwheels of the Speedlink Aptico or the Elecom EX-G (which can tilt left and right as well), but is decent.
Wireless
The M570 trackball is wireless, connected to your computer using a very small USB receiver which you would have to leave in one of your USB ports. I use an 8-port USB hub and it works fine via this hub, as well as directly in one of the computer USB ports. It might have been better to have a bluetooth connection on this trackball, because then you wouldn't need the USB receiver, but we will have to do with this 2.4Ghz wireless connection and receiver. Some people have complained about sometimes losing the signal for a short period, but I have not (yet) experienced any delays or fallouts of the connection. The wireless connection of the M570 is much much better than the bulky wireless receiver with long USB cable that you need with the Logitech Cordless Optical Trackman. A bluetooth connection would be even better (because you wouldn't need a USB port), but currently there is no bluetooth trackball available the only bluetooth trackball currently available is the Kensington Expert Wireless.
Conclusion
| | | |
| --- | --- | --- |
| | 3.5 / 5 | |
Overall this Logitech M570 is a very nice trackball with lots of useful buttons and a beautiful and comfortable shape, made of nice materials. If you are short on desk space, or need to use your mouse on varying surfaces, a this device is for you. Remember that with a trackball mouse the actual device itself never moves, just your fingers do, so it's perfect for tight work spaces and you could even use it on the couch.
The ball and the whole device are a bit small for my large hand (long fingers) but for most people this wouldn't be a problem and probably the M570 fits them better than the larger Kensington Expert and SlimBlade.
The small ball does make this trackball slightly less accurate than the trackballs with larger ball.
Using a thumb-operated trackball (like this M570) is a personal but structural choice. It's really a whole different ballgame than having a finger operated trackball like the Logitech Marble, Cordless Optical Trackman, Kensington Expert, Orbit with Scroll Ring and SlimBlade), and since I have used an Expert most of the time, it is hard for me to get the same accuracy and speed with this M570. But some people might argue the same from the other point of view. So if this is your first trackball, you will get used to it and probably prefer it to a finger-operated trackball, but if you have already owned a finger-operated trackball, you might need some time to adjust.


Pros
Logitech M570 Wireless Trackball
Sculpted shape supports your hand
Wireless (Logitech Advanced 2.4 GHz with small wireless USB receiver)
Storable receiver: if you want to remove the tiny receiver, you can put it away right next to the battery
18-month battery life
Scroll wheel for easier scrolling up and down through websites and documents
Programmable buttons with SetPoint™ software
Back/Forward buttons
Easy to clean
Cons
Too small if you have large hands
No bluetooth, but wireless USB receiver
Scrollwheel not the best