Kensington Orbit Optical Trackball
Review
productnumber K64327F


The Kensington Orbit Optical Trackball is the most basic model of the Kensington Trackball line. When you take it out of its box, it looks pretty cool and feels very light. The Orbit is one of the few trackballs that comes with a USB – PS/2 converter (which not many people need anymore, but it's a nice gesture).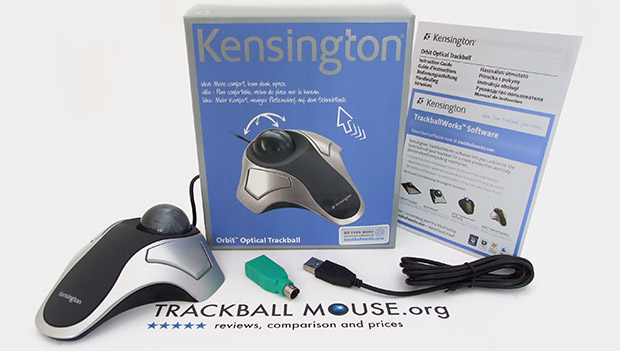 Design
The shape of this small trackball is very nice. It is made from light but a bit cheap feeling 'silver' plastic. The dark grey central part is more luxuriously soft and smooth, and this area gives you some grip. The whole thing is very small, so if you have large hands, your hand is not resting on the device, which makes the design not so ergonomic as other trackballs.
The ball is very shiny and looks like a mini bowling ball (with that same smokey pattern). This could be a reference to the first trackball ever made, in 1952, which actually did use a full size bowling ball with this kind of pattern. The trackball has a USB connection and when you plug it in to your computer or laptop, it immediately works properly.
Buttons
The Kensington Orbit has two buttons, left-click and right-click. The buttons work fine although you have to press them quite firmly compared to the Expert or SlimBlade, which both have very subtle buttons.
Finger operated trackball
I like this kind of 'finger-operated' trackball, but as I mention in other trackball reviews as well, this is a personal preference and if you are used to a thumb-operated trackball you might argue differently. If you have never used a trackball, I would recommend a finger-operated trackball (see the list of other finger-operated trackball here), or to get one of each to try both versions.
Ball
The ball of the Kensington Orbit Optical is quite small compared to the large balls of the Kensington Expert and SlimBlade, but it is responsive and if you have experience with trackballs you are used to it within minutes. When moving the ball (and pointer) very quickly, it doesn't really go in a nice straight line, this is because the small, light ball doesn't roll as decisively as a the large and heavy balls of the Expert and SlimBlade. At rare occassions, the pointer 'jumps' on the screen, so the optical tracking is not the most accurate.
The ball comes out very easily, so cleaning this trackball (which you might have to do once or twice a year), is very easy, and probably takes less than 30 seconds in total. The downside is that the ball is not held in place by the case, so if you hold the Orbit upside down (for example if you are moving it or transporting in your bag) the ball will be able to fall out.
But unfortunately: no scrollwheel
I'll give you my main complaint about the Kensington Orbit Optical: it does not have a scrollwheel or scroll ring. There is a way to scroll holding down the left button and then using the ball, but this doesn't really do it for me. A proper scrollwheel is something I miss immediately, since it really slows down my computer skills. Some people actually don't need a scrollwheel on the mouse, because they have a scrollwheel built in on the left side of their keyboard, so they can scroll with the left hand and point the cursor with the right hand. But if you work on a laptop or don't have another way to scroll, I would really recommend looking at other options. You're getting a trackball, so you should really go for ultimate comfort and speed! A scrollwheel or scrollring really saves so much time browsing websites or documents, I can't imagine why you wouldn't want one on your trackball, keyboard or mouse.
Conclusion
| | | |
| --- | --- | --- |
| | 2.5 / 5 | |
The advantages of this basic Kensington Orbit Optical trackball are that it saves space on your desk compared to a mouse, you don't have to move your arm to operate it, it is ambidextrous (suited for left- and right-handed users), and very affordable. The lack of many buttons, cheap materials, lack of the scrollwheel and the small ball make this Kensington Orbit Optical trackball not suited for professional designers, heavy computer users or gamers. If you're looking for a simple, nice looking and affordable trackball which is good enough for basic computing, this is a decent option. But in the same price range, we would strongly recommend the Logitech Marble, which unfortunately also doesn't have a scrollwheel either, but feels more solid, has a more ergonomic shape, better trackball and more buttons. Or even better, go for the slightly more expensive Kensington Orbit with Scrollring which is in our eyes one of the best trackballs around, especially for its price.
If you're a professional or heavy user, I recommend the Kensington Expert or Kensington SlimBlade.


Pros
Kensington Orbit Optical Trackball
Ambidextrous (for both left and right-handed users)
Nice comfortable shape
Cool design
Cons
Small ball
Cheap materials
No scrollwheel
Only two buttons (although for most people two buttons are enough)