When choosing the best trackball mouse, you need to take into consideration your usage and hand configuration. Read our reviews and look for smaller trackballs if you have small hands. Do you work professionally with a computer? Then go for the more expensive and larger trackballs like the Kensington Expert and SlimBlade, although we think the Kensington Orbit with Scroll Ring is also very good. If you only use a trackball for basic computing, like email and internet, then a Logitech Marble Mouse or Logitech M570 wireless are great options.
I recommend you Compare all trackballs to see which options you think are important, or go straight away to our Top 10 trackballs list or get inspiration from our detailed Trackball reviews
The best trackball mouse
We prefer the Kensington Expert and Kensington Orbit with Scroll Ring, but take a look at our Top 10 to see other good options that might be better suited for you.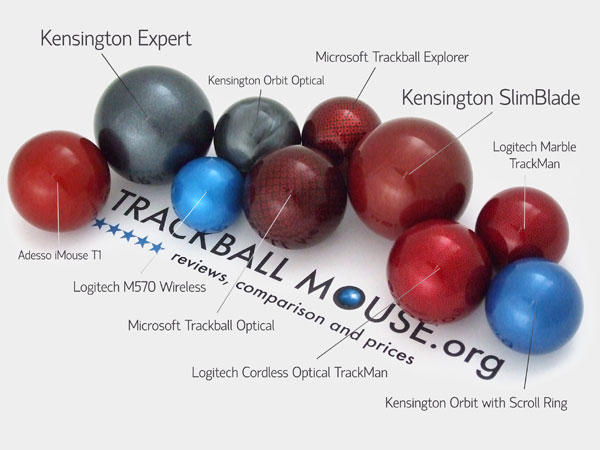 One important thing to take into account is the size of the trackball itself. As you see in the image above there are many different sizes available, and yes… we think bigger is better!
If you're using the mouse for gaming or graphics, you will want a mouse that is technologically advanced in optics. The reason for this is an advanced optics mouse is going to be much more precise in its movements (great for graphics) and much more responsive to the smallest movement of the user (great for gaming). For instance, Microsoft has a mouse that scans 1500 scans per second. This is a very responsive very precise instrument that will handle itself well in both graphics and gaming capacities.
If you are just looking for a nice comfortable mouse that will get you in and about the web without need of such precise movements, you may want to downgrade the optical features to a less costly version that is still capable of handling your requirements.
The trackball mouse comes in ergonomic and non ergonomic styles. You will need to decide of the more expensive ergonomic designs are worth the extra cost to you. If you frequently spend time on the computer, you may want to consider the ergonomic designs as they will make computer work much less stressful on your hand, wrist and arm and will minimize the fatigue you feel when working long hours.