Adesso iMouse T1
Review
(known in some countries as the iOne Lynx R15)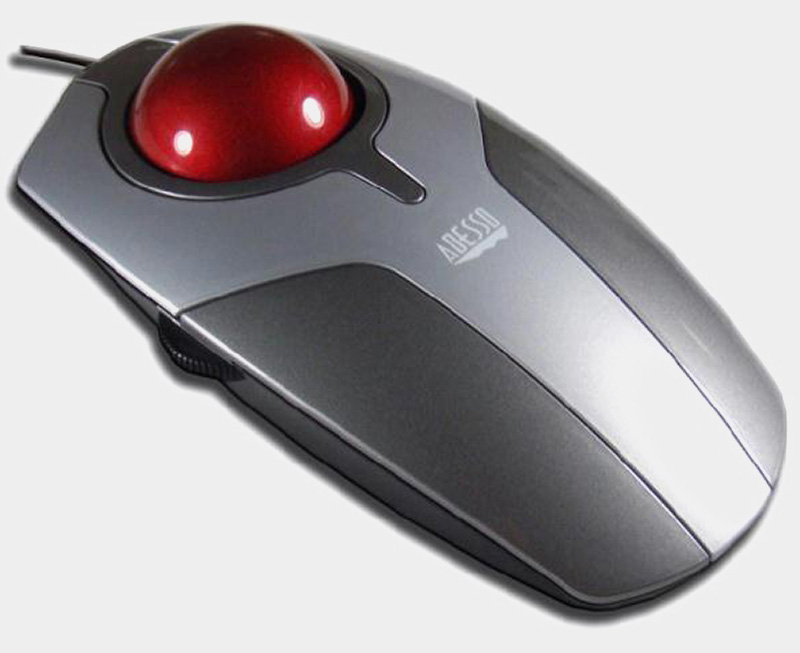 "Needs wrist support, but then works very well, although scroll could be better."



Read all reviews on Amazon.com
The Adesso iMouse T1 (sold in some countries as the Lynx R15), is a simple trackball. Not one of our favorites, but it does do a decent job and has all the required features.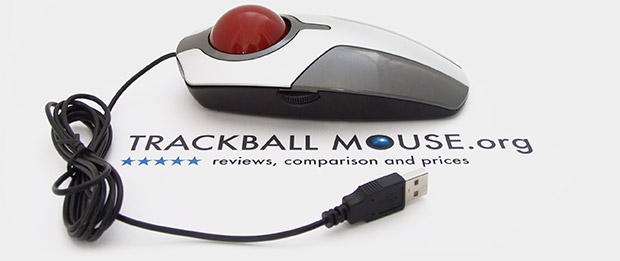 This is the one I used, a European version, branded Lynx R15.
In the USA usually sold as the Adesso iMouse T1.
Design
If you see the Adesso iMouse T1 in real life, is much bigger than you would expect when you see the photos. It looks like a normal mouse on the photos, but it's actually almost twice as long. I must admit that it does fit quite comfortably in my large hand, with my hand resting on the whole body of the mouse, which is rare. For people with small hands, this trackball might not be the best choice, but people with large hands will find it quite comfortable. The ball is medium size, similar to the Logitech Marble, not as large as the Kensington Expert or SlimBlade, but larger than the medium sized Kensington Orbit with Scroll Ring.
Ambidextrous
The design of the body and buttons is symmetrical which allows left and right handed people to use this mouse. Only the scrollwheel would be an issue, since it is placed on the left side, but I think a left handed user would be able to scroll with the pinkie or ring finger.
The body and especially the red trackball feel extremely smooth, almost if they're rubbed in oil.
Ball
The ball moves very smoothly and the cursor reacts accurately to the movements. Unfortunately the Adesso doesn't come with any special software but cursor and scrolling speed can be adjusted using your computer's built in mouse settings.
Works on Windows and Apple
The operating instructions leaflet doesn't mention Apple or Mac OS as a compatible computer system, but this Adesso trackball worked instantly on my Apple Macbook Pro, so I think it works on virtually any computer.
Buttons
The buttons click easily with a typical regular mouse click sound, but need quite some pressure to be clicked. The layout is not ideal. My favorite setup is: thumb for left-click, index and middle finger for the trackball and ring finger or pinkie for right-click. On this trackball however, that is not possible. You can't use your thumb for the left click, but only for the scrollwheel that is sticking out of the left side. Then you need your index finger for the left button (which mouse users might actually like!), and then your middle and ring finger for the trackball, but then the pinkie is not in a good position for the right-click. Anyway, this might be a personal preference, but for me it's really difficult to find an ideal finger setting on this pointing device. If the scrollwheel would have been the left-click that would have been much better, but then the Adesso should have a scroll wheel around the ball to allow for scrolling… wait a minute! Why don't you just get a Kensington Orbit with Scroll Ring!? That one and the Kensington Expert and SlimBlade have in my eyes a perfect setup for a finger-operated trackball. You could also consider thumb-operated trackballs, which usually have a very convenient finger setup, maximizing the use of each finger, for example the Logitech M570 Wireless trackball, or Logitech Cordless Optical TrackMan.
But, to get back to the Adesso, with practice you can get used to this setup.
Scrollwheel
Just another criticism of the scrollwheel: it works a bit crude, not so subtle and smooth as similar scrollwheels (like on the Logitech M570 Wireless) and in no way as smooth as a large scroll ring (as on the Kensington Orbit with Scroll Ring). Not only does the wheel itself feel extremely cheap, it also 'clicks' very cheaply creating a dry hollow sound within the body of the device. It does work though, and having a scrollwheel is a major advantage over trackballs that don't have a scrollwheel (like the Kensington Orbit Optical and even the Logitech Marble).
Conclusion
| | | |
| --- | --- | --- |
| | 2.0 / 5 | |
Overall this Adesso Trackball is not bad at all. It does have a lot of the necessary features including a scrollwheel, 2 large buttons, a decently sized trackball which is very responsive and an ergonomic design of the body (although best for larger hands). My major complaint would be the set up of the buttons and scrollwheel which is in my opinion not an ideal setup for the fingers, but if this is your first trackball, you might get used to it quickly and like it. I got used to it after a while and can see that it can work. For the price it's not bad and I wouldn't stop anyone from buying it, but a Logitech Marble is a cheaper (and better) alternative, and a Kensington Orbit with Scroll Ring is way better and only a little more expensive.


Pros
Adesso iMouse T1 Trackball
Ambidextrous (can be used by left handed and right handed users)
Body and ball feel smooth
Scrollwheel
Cons
Too big
No special software to adjust speed or button
Buttons not easy to press
Layout not ergonomic
Location of scrollwheel not ideal
Scrollwheel cheap and not subtle or smooth