Have you noticed how difficult and painful it is to work with your mouse?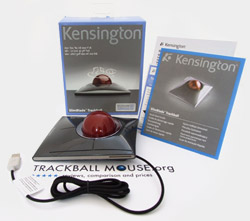 A trackball gives you full control and comfort!
Many people who uses a trackball can't go back to using a normal mouse after less than a week of working with it. Don't wait before it's too late. Try one and I promise you won't be disappointed.
A trackball mouse works on any surface, is better for your arms, wrist and hand, saves desk space and offers more control and precision.
The Logitech Marble Mouse or Kensington Orbit with Scroll Ring will fit into your price range and are also some of the most popular, reliable and comfortable trackballs. If you are a professional or heavy user, I strongly recommend considering the Kensington Expert.
There are many benefits using a trackball mouse; if space is of minimal quantity, a track mouse is definitely for you. Whereas the traditional mouse needs to roam and needs its own mouse pad to travel, a track mouse needs neither. It will sit stationary on any surface as all of the rolling is done on the top rather than the bottom. The trackball is placed within easy reach, especially on ergonomically designed trackball mice, where the ball is located within easy reach of your thumb. The buttons are also placed well on the mouse so your fingers are not stressed in reaching for them.
Trackball mice come in all sizes and configurations. Ergonomic mice are shaped specifically to fit a hand and in looking for one of these to purchase you will want to wrap your hand around many of them in order to find out which mouse fits your hand shape best. This is especially important if you are left handed, as a right handed ergonomic mouse will never work for a left handed user with any efficiency.
You will also want to consider the amount of space you have. If you have a good amount of space, you may opt for the larger more hand friendly mice, whereas if you have a very small space, you will want to purchase a small trackball mouse, if not a mini trackball mouse.
Discover the benefits of a trackball compared to a mouse, get one yourself!