Elecom M-XT3DRBK Wireless Trackball
Review
productnumber 4953103473683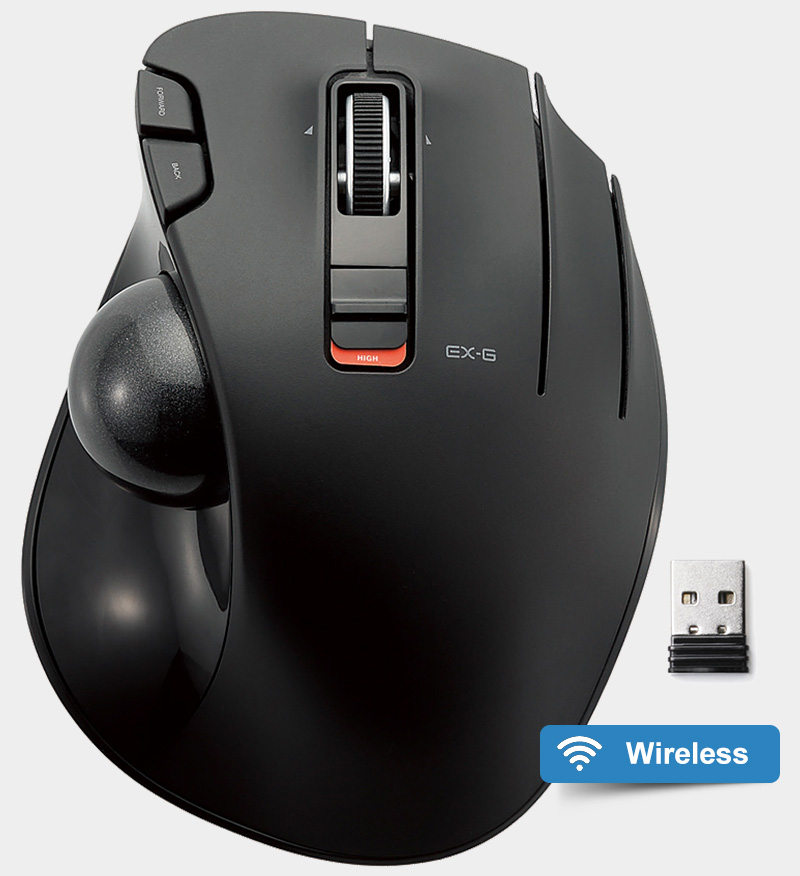 This Elecom M-XT3DRBK Wireless Trackball gets a decent 3.7 out of 5 stars rating on Amazon.com, where some people say it's better than the Logitech M570, but others have minor complaints.



Read all reviews on Amazon.com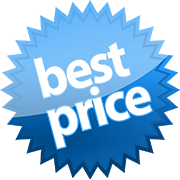 LOWEST PRICE:
$39,41 »
SUMMARY: A very slick and versatile thumb-operated trackball from Japanese brand Elecom. It has a lot of buttons, 4D scrollwheel and DPI switch. I'm currently using this latest Elecom trackball and will let you know how good it is. Some users recommend to switch the Elecom ball for the blue Logitech M570 ball for more accuracy, I will test this as well. Stay tuned for the full review!
Full review of the Elecom M-XT3DRBK Wireless Trackball coming soon – I'm testing trackball now, stay tuned! Follow @TrackballMouse on Facebook for updates, or see features below.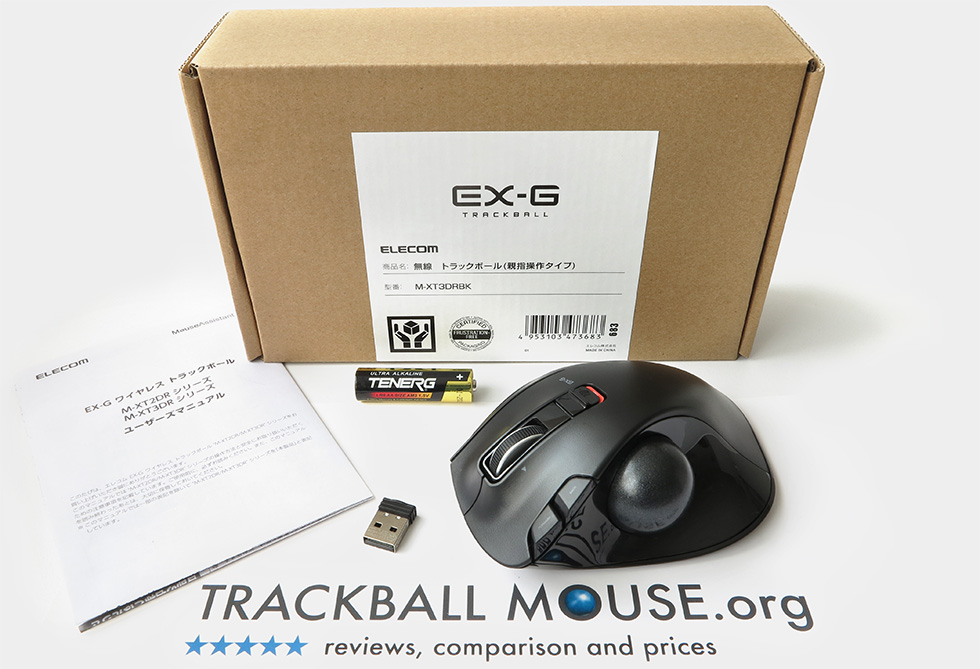 The Elecom M-XT3DRBK Wireless Trackball, 1 AA battery, USB receiver, instructions (in Japanese) and the box
photo © TrackballMouse.org
Until I publish the review, take a look at the features of the Elecom M-XT3DRBK Wireless Trackball:
Wireless via 2.4 GHz USB wireless receiver)
Compatible with recent Windows and Mac computers
Plug & play
Programmable buttons
DPI button, switch between 750/1500 DPI
Scrollwheel with click and tilt (scroll left and right) function
For the sensors that detect the ball's movement, the Elecom trackball devices use gaming-grade high quality optical sensors to achieve outstanding pointer tracking.
Elecom trackball: the complete model range explained
Elecom offers several very good trackball devices, divided in two categories: the EX-G thumb-operated models and the DEFT finger-operated models, both available as 2.4GHz wireless and USB wired variations.
If you want to know more about the different models, read this article, where I have listed all Elecom models, first in a comparison table, and then with more detailed descriptions of the differences of all the models.


Pros
Elecom M-XT3DRBK Wireless Trackball
Wireless: 2.4Ghz USB
DPI switch
Also available as a left-handed version, or with USB cable connection instead of wireless
Cons
Some users have complained about the accuracy of the ball (replacing the black ball with the blue Logitech M570 ball seems to work much better).